Undertaking a school-based traineeship through Learn 2 Work provides young people with formal training as part of their VCE or VCAL studies, and leads to meaningful work opportunities though a nationally recognised qualification.
Participants attend their workplace for seven hours each week and perform tasks appropriate to their qualification.
Just like a full-time traineeship, school-based trainees complete a training contract with their employer and undertake formal training with a registered training organisation.
There are a range of benefits to students completing a school-based traineeship including:
An alternate academic pathway
Credit towards their VCE/VCAL results
A nationally accredited certificate qualification
Hands-on industry experience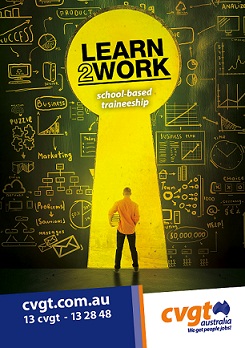 Where can I find out more information?
CVGT Australia is an experienced provider of apprenticeships and traineeships.
We have been supporting employers and their apprentices and trainees for more than 30 years. If you want to find out more about Learn 2 Work call us on 132848 today!
Contact Us
You may be eligible to receive a wage subsidy or Australian Government incentive.
Complete our online form to register your interest in becoming an apprentice or trainee.
Simply fill in our online form to book a FREE workplace consultation.
Take back the hours and stress of employing new staff and talk to CVGT Australia today!